As an Amazon Associate, I earn from qualifying purchases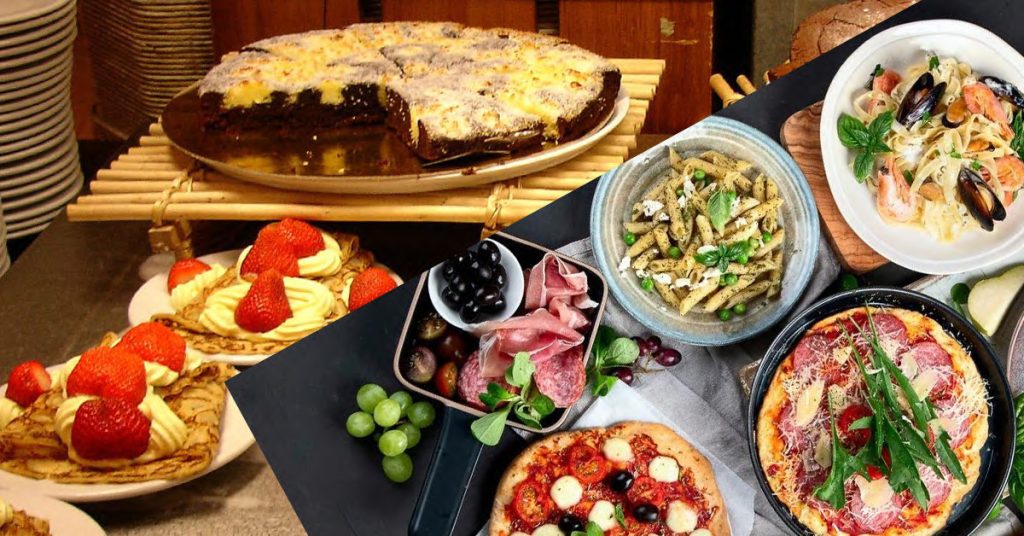 When it comes to culinary excellence, few cuisines can rival the allure of French food vs Italian foods. French and Italian food cuisines have left an indelible mark on the world of gastronomy, captivating palates with their unique flavors, and techniques. In this article, we will embark on a gastronomic journey through the landscapes of French and Italian cuisine, exploring their distinct characteristics, iconic dishes, and the eternal debate over which one reigns supreme.
Introduction: A Tale of Two Culinary Titans of French Food vs Italian Food
The culinary traditions of France and Italy are rich tapestries interwoven with history, culture, and regional diversity. Each cuisine boasts a legacy that spans centuries, shaping the way people approach and experience food.
Flavor Palette: The Art of Savory Seduction
French Cuisine: Elegance and Complexity
French cuisine is renowned for its refined elegance and intricate preparation techniques. The French take pride in their sauces, which form the backbone of many dishes. Classics like Coq au Vin and Beef Bourguignon showcase the depth of flavor that can be achieved through slow cooking and careful seasoning.
Italian Cuisine: Simplicity and Freshness
Conversely, Italian cuisine finds beauty in simplicity. Fresh, high-quality ingredients take center stage. Dishes like Margherita pizza and Pasta Carbonara are testaments to how a handful of elements can create culinary magic.
Iconic Dishes: A Clash of Titans of French Food vs Italian Food
French Classics That Inspire Awe
French cuisine boasts iconic dishes like Escargot, a delicacy of cooked snails dripping in garlic butter. The legendary Croissant embodies flaky perfection, while Ratatouille showcases a melange of Mediterranean vegetables.
Italian Delicacies That Enchant
Italian cuisine counters with its own arsenal of legendary dishes. The sumptuousness of Risotto Alla Milanese and the allure of Tiramisu have captured hearts worldwide.
The Role of Cheese and Wine: A Tasty Tug of War
French Cheese and Wine Pairing
French cheese and wine pairings are celebrated for their harmony. From the creamy Brie to the pungent Roquefort, each cheese finds its perfect match in a particular wine, creating an experience that is nothing short of divine.
Italian Cheese and Wine Symphony
Italian counterparts like Mozzarella and Parmigiano-Reggiano contribute to dishes like Caprese salad and complement wines such as Chianti and Prosecco, creating symphonies of flavor that dance on the taste buds.
Cultural Influence: Local Ingredients and Traditions of French Food vs Italian Food
French Joie de Vivre
French cuisine reflects the country's passion for fine dining and celebration. The emphasis on sauces, butter, and wine mirrors the indulgent nature of French culture.
Italian Dolce Vita
Italian cuisine mirrors the Italian way of life—simple yet immensely satisfying. The reliance on fresh, local ingredients and the importance of communal dining highlight Italy's emphasis on togetherness.
Deciding the Superior Cuisine: A Matter of Preference
6.1 The Perennial Debate
The battle between French and Italian cuisine is as old as time, yet it is a matter of personal taste. Some prefer the delicate balance of French dishes, while others find solace in the rustic charm of Italian fare.
7. Conclusion: A Unification of Culinary Wonders
In the realm of food, both French and Italian cuisines stand as marvels of human creativity and culture. The interplay of flavors, the mastery of techniques, and the stories behind each dish remind us that food is not merely sustenance—it's an art form that unites people across borders.
8. Frequently Asked Questions about French Food vs Italian Food
FAQ 1: Which cuisine is more suitable for vegetarians?
Both French and Italian cuisines offer a variety of vegetarian options. Italian cuisine's emphasis on fresh vegetables and simple preparations often caters well to vegetarians.
FAQ 2: Are French sauces difficult to make?
French sauces can be intricate, requiring precise techniques. However, with practice and patience, anyone can master the art of creating exquisite French sauces.
FAQ 3: Is pasta more Italian or French?
Pasta is undoubtedly more Italian in origin. While both cuisines have unique pasta dishes, Italian cuisine has a broader range and history of pasta preparations.
FAQ 4: Which cuisine is known for its pastries?
French cuisine is renowned for its pastries, with classics like croissants, éclairs, and macarons captivating dessert enthusiasts worldwide.
FAQ 5: What wine pairs best with Italian dishes?
Italian dishes often pair well with Italian wines. For instance, red wines like Chianti complement tomato-based Italian dishes, while white wines like Pinot Grigio enhance seafood-based dishes.
To know about our website you can visit.